Peter and Jode Chevalier
You'll find Peter Chevalier all over Mendocino County. Together with his wife Jode, he runs Chevalier Vineyard Management, the go-to overseers for in-the-know vineyard owners. Like so many of Artezin's growers, Peter has farming in his blood. Growing up he helped his father in the family pear orchard and eventually added vineyards to his area of expertise. Artezin winemaker Randle Johnson has tremendous respect for the Chevaliers and looks forward to their Zinfandel and Petite Sirah grapes each season.
Colombini Family
Down a long dusty road, in the heart of Mendocino County, Darin Colombini and his father personally tend to acres of heirloom Zinfandel vines. Planted during World War II, the farm was purchased by Darin's father one night over dinner from its previous owner, Charlie Barra, still a local grower. The Colombini family, whose ancestors immigrated to California from Italy to escape blight and poverty, has a long and fruitful relationship with Artezin's winemaker Randle Johnson who buys grapes from the Colombinis for Artezin's Mendocino Zinfandel.
Graziano Family
A few miles away, at Rovera Ranch, Eddie Graziano oversees his Zinfandel vines from the inside of a building that looks more like a 1950s movie set than a vineyard. The Graziano family first planted vineyards in Mendocino County in 1918. During Prohibition, Eddie's grandfather Vincenzo sold grapes to bootleggers on the East Coast. Today Eddie sells them to Randle Johnson for Artezin's Mendocino Zinfandel. The older Grazianos must have instilled a love of family and history in Eddie who is as passionate about his vineyard as he is his grandchildren, one of whom is a fierce barrel jumper in the rodeo, and his prize l957 Chevy Bel Air two-door hardtop convertible. The car takes him back to his youth at Ukiah High School where he met his now wife Frankie.
Joan Nelson
Through a garden gate that once graced her grandmother's home, on a road built by her grandfather and a team of horses, Joan Nelson oversees the business her 101-year old father once ran including acres of sustainably grown vineyards. Respectful of tradition, Nelson maintains the personal relationship that has come to define Artezin and its growers and is a steady source of Petite Sirah for Artezin.
Garzini Ranch
Margueritte, Jeannette, and Constance Garzini may no longer own the Garzini Ranch, but that doesn't mean they don't still watch over it. First planted by their family in 1921, the ranch is now managed by private owners. Still, the Garzini sisters keep a close eye on the grapes, assuring the same high standards set by their family are maintained, resulting in high quality Zinfandel and Petite Sirah grapes for Artezin. And, of course, they continue to inquire about their favorite peach tree and the fruit it bears.
Paul Dolan
From high above the Talmage Bench, the legendary winemaker Paul Dolan grows his grapes on his biodynamic farm, The Dark Horse Ranch. A fourth generation winegrower, Dolan is committed to sustainable growing practices that enhance and reflect the sense of place Mendocino varietals communicate. Winemaker Johnson relies on Dolan for a supply of both Zinfandel and Petite Sirah grapes each year.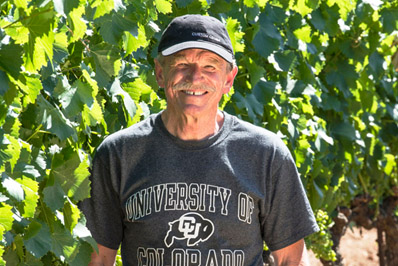 Michael Collins
Michael Collins grows his grapes on a modest nine acres alongside the Russian River. Having sold his family winery several years ago, Collins clearly continues to grow grapes for the pure love of it. You'll find him on his tractor every morning before sunrise personally tending to the vines that source some of the best Zinfandel in the world including, of course, Collins Vineyard Zinfandel.